上記の広告は1ヶ月以上更新のないブログに表示されています。
新しい記事を書く事で広告が消せます。
This blog is exceptional. It is Second part of Face book 21-01-2015 which is written by Dutch with of course very very broken langage. The 2nd part may be better also by Dutch.because of same thame. Under half of this page you see Japanese character 'Kanji-Kana'. It's roughly the same content as above half.
[automatic translation from Dutch to Japanese is apparently not understandable]
Well it's about terror like recent happening in Paris on the caricature weekly ''Charlie Hebdo''. Japanese persons may be excuted, not in Paris but Al Raqqah in Syria. And a news reachs me just now, says one of them Yukawa has already beheaded
[note 1]
.
Since last thursday there has been appeared a lot of caricature in the world, US and EU, Japan as well. Have a look those dwawings in combined with serious killing fields.!
Aha ha mijn gedacht is veel te kort door bocht (schreef op Face Book) . Ik las gisteren Japanse krant:Mainichi Shinbun and Blitse kranten (online-abonnement). Deze incident met Isis lijkt op een samenzwering van Japanse kant. Namelijk Abe regiem en de tweetal met hun support organisatie.



Ook op Gardian en veel andere kranten en TV-beelden op sattelite stations verschenen pagina grote foto en article van Gotou's moeder die huilt. Haar zoon houdt kinderen en geen vijand van Isis etct. Wat zij mag zeggen en mag niet zeggen zijn van te voren bepaald door betrokken mensen van regering en organisatie, zo was indruk ervan.

De eis van losgeld vond al vorig jaar in oktober plaats, dus NIET vorige week in 2015. Gotou's vrouw kreeg e-mail van Isis, waarin de eis stond. Er zijn meer verrassing. Goto en Yukawa had al in 2013 samen gewerkt in het Midden-Oosten, zoals Syrië en Turkije en Jordan etct. Zo vaak zoveel reizen! Wie heeft hun activiteit gefinancieerd?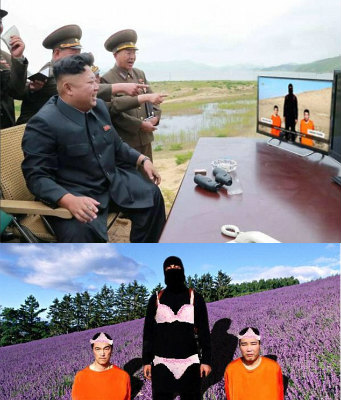 Blijkbaar zou de ontvoeling echte feit zijn. Yukawa zou al in august 2014 gepakt worden door Isis in Areppo. Maar Het is niet geratificeerd, en weet niemand waarheid. Abe en het ministerie van Buitenlandse Zaken van Japan moesten al vorig jaar in nov-dec bezig onderhandeling met Isis geweest zijn. Daarom juist verklaarde Abe $200milli voor Internationale cooperatie tegen Isis in Cairo. Pas daarna hebben de tweetal echte gijzelaar geworden onder strenge omstandigheden? [note 2]






Haruna Yukawa,met makeup als vrouw op fotos te zien, leek op conekties te hebben met iemand extreem-rechts en de plaatselijk LDP patijen. Gotou heeft link met media bedrijven bijvooreeld NHK (Japanse NOS) die binnenlandse propaganda voor Abe regiem doet. Media zowel NHK als Mainichi willen graag journalistik informatie uit Midden Oost, in ruil geven ze geld/apparaten/support.
ISIS neemt actie met Video van twee Japanner, en waar de losgeld $200milli gevraagd werd. Dezelfde bedrag van Abe) betekent dat doel van Isis niet losgeld is, weet ook dat Japan nooit zou betalen. In andere woor, besloot Isis onthoofding van de tweetal echte.
Als je zulke actergrond overweegt, veroorzaakt twee factors deze incident duidelijk. Een faktor is geld-verdienen en zelf-reclame van Gotou/Yukawa, twede fator is domme-combinatie van Politiek en Media . Nu staat het onthoofding op het spel als resultaat. Toch een soort samenzwering.






Abe keuzes zijn er niet veel. 1. verder versterken Helden imago van de tweetal en de sympathie. 2. verbergen misrekening van Abe en Ministerie van Buitenlandse Zaken die juiste informatie niet kan verzamelen.en weinig mobiliteit heeft. In Amman hoogtstad van Jordan zit Nakayama staatssecretaris van Butenlndse zaken. Toen Abe Cairo bezoekte
was hij vergezeld. Sindsdien verblijft hij in Amman om de redding operatie van tweetal te begeleiden。

Veel van de ontvoerde gijzelaars zijn blijkbaar beperkt tot donker ruimte opsluiting in Al-Raqqah (Al-Rakkua). Een stad : van geruïneerd metropool Aleppo ongeveer naar oosten 130㎞. Het lijkt 'hoofd stad van Islamitische land. En ver van Amman. De situatie zal snel ontwikkelen ondanks de inspanningen van Japanse Buitenlandse zaken..

Japanse meeste mensen worden in zogenaamde ''doof tatam kamer'' geplaatst, en heeft niets te doen dan op de zijlijn te staan.
どうも21日の解釈は性急すぎたようです。昨日、毎日やUKの新聞ネット版を読み、この事件は安倍政権ほか関係機関、もちろん主役二名を含めるドタバタ芝居に見えてきた。

後藤と異なる苗字での母親・石堂さんインタヴュー画像が昨々日、サテライトニュース局と全欧主要局に流れ、またガーディアンほか全ての新聞にも一面写真と記事で紹介されている。息子は子供が大好きで、けっしてイスラム国の敵でない二点をのべ、釈放嘆願する涙の声明。関係者の指示/思惑に沿うイメージ作りと発言に思われる…。彼女がもしも戦国期に生きていれば、涙を抑えつつ「息子は覚悟している筈。大人の行為ゆえ、自分自身で生きる努力をしなければなりません」と言う趣旨を述べるでしょう。
二名はこの二年既に共に中東に行き来している。軍資金はどこから出ているのだろう? 湯川はアレッポで`戦争ごっこ`に興じ、幾つかの現地グループと関わっていた。あるいは覆面の過激派アイシスと接触していただろう。捕獲されたのは8月らしい。彼の`救出'に現地入りとされる後藤も不可思議である。とどのつまり、両名は過激派の道具に扱われる結果になる。

彼らの身代金要求は昨年10月に後藤の妻に直接Eメイルされている。なんだ!それ以来、政府/外務省出先はISとネゴしている筈でなければならない。救出にUS/EUの助けを仰がねばならず、日本のテロ姿勢と国際協力を示すため、首相はイスラム対策資金200万ドルをつい先日カイロで公言。アラブ・イスラム圏での発言はIsisを刺激しない筈はない。

YouTubeでの身代金額はAbeと同額なのは象徴的である。交渉しえない額で、しかも'相場'を超えている。従って支払いは起りえないことをアイシス自身が知っている。つまりプロパガンダの最大効果を狙う戦術なのだ。言い換えると過激歌劇イスラム派は人質の首切を決定したことになる。

女性並みに化粧する湯川遥菜は右翼や自民党にコネを持ち(元空自将官・田母神 俊雄と並ぶ画像からも明快)、後藤健二はNHKや他メディアと関係していたらしい。公営企業NHKは政権に従順で、言わば阿部政権の宣伝機関である。NHKや毎日新聞は中東情報を得るために、後藤/湯川コンビの資金/取材器機などを供給している可能性がある。

こうした背景を考えると、事件誘発ファクターは2つある。一つは、商売と売名 を危険な中東で行ったこと、二つめは政治とメディアと言う組み合わせ。
安倍政権の事件処理と言うか解決への選択肢は多くない。二人の英雄イメージを更に強め、国民の同情を買うこと、一方で、自らの誤算と、情報収集力と機動性に欠ける外務省の実態を水面下にそっとしておくこと。
現在アンマンに外務副大臣・中山氏が滞在して、人質救出作戦を指揮している。拉致された人質の多くは Al-Raqqah(アル・ラックア)の独房に閉じ込められているらしい。半ば廃墟になった大都市アレッポから東130㎞ほどの町、イスラム国の本拠らしい。アンマンからは遠い。外務省出先の努力にも拘らず事態は急速に展開するだろう。

日本の大多数の人々は、言わばツンボ桟敷に置かれたまま、傍観するより他ない。外交'芝居`とは言え、納税者にとって歯がゆく、虫の治まらぬ出来事である。
【Note】:
1. Mika Yamamoto, Japanese jourlist was shot dead in Areppo on Aug 20, 2012. Probably by corp of Al-Asad.
山本美香(45)、銃撃死。参考→ http://zasshizassozatsujin.blog.fc2.com/blog-entry-249.html
2. Isis : the Islamic State of Iraq and the Levant (Isis) or (Isil), イラクとレバントのイスラム国(アイシス/アイシル)
関連記事

Caricature & Decapitation by Isis 【風刺画とイスラム国首切処刑】 (2015/01/24)
スポンサーサイト
Yesterday Martin Luther King Day in US, It seems his birthday. 'TV journal' says, it's a federal holiday held on the third Monday of January. Hah at first time I learn this! The man is symbol for the civil equal rights of 'Black'
[note 1].
The thema on yesterday's march may concern to several incidents in 2014, for example ''Unrest in Ferguson'' and ''Michael Brown'' shot dead by corps on August
[note 2]..




The ancestor of 'Black' came from Africa mostly. Dutch ''United East India company''(1602-1799), transported approximately 550.000 people from Ivory coast to the North America in the course of 17-18 centuries
[note 3].
They slaves were brought into the agriculture, in particular in cotton plantation in Southern US, as you know. It is described in detail in Uncle Tom's Cabin
[note 4].
[Negro Life at the South, by Eastman Johnson, is popularly known as Old Kentucky Home.]
This explanetion and painting are quoted from a page of Wikpedia 'My Old Kentucky Home'
Foster's most works belong to Minstrel songs. Minstrel is an entertainment show, where white actors played in blackface
[note 5].
His melodies and lylics were provided for a Blackface group. so that the group got commercial success. Foster sold apparently the exclusive rights of songs to the group. But it was not the time with the copyright.
This painting is one of his later life. It is clearly able to observe his own style that Van Gogh achieved in Arles. He was inspired by strong sunlight nearby Mediterranean sea and found the brush strokes like burning fire as if he were himself to watch the solar prominence.
The Kingdom of the Netherlands in the era of Vincent van Gogh forbid the slavery, although the West India company had been busy with the slavery business until beginning of 19th century
[note 6].
Van Gogh diary or letters was published as a book in Dutch (nowadays in many languages) by Jo van Gogh-Bonger. I never read all of the book, but partly.You might find articles with a word 'slave' because there might have been a couple of portrait with black people. In fact he sketched and painted many ordinary people or just peasants in stead of rich and royal family. It would not be strange at all if his collection included portraits of African black persons. As the result of such circumstance, he could earn little with his art.Naturally he couldn't pay for it. Somehow he got someone who could sit for a while as a model.

It was very neccesary to get model for the painter who might suffer from Primarily Obsessional Obsessive-Compulsive Disorder (also commonly called Purely Obsessional OCD, Pure-O) as well as poverty
[note 7].
There could be another interpretation why he cut down own ear. Because he was just hungry of painting after his friend Paul Gauguin left him alone.
【Note】:
1. ''I have a dream that ....'' the speech of Martin Luther King, Jr ( (Jan.15th1929–Apr.4th1968) ) took place on 28 August 1963, at the Lincoln Memorial, Washington D.C.
2. Since a few months ago, there has been demonstrations and riots by blacks and their support groups. , caused by white police. The 'White' corps arrested unfairly a black guy. Later he died due to "brutality"of police. People insists on that it was undoubtedly prejudice and racism against 'Black'.
3,. so is reported. "Vereenigde Oost-Indische Compagnie" (VOC) in Dutch. Slavery is an phenomena since first memory of mankind. It extists even now like children labor and forced marriage. Maybe there would be a kind of slavery of each era?
4 Later they worked for industrial factories which was more dangerous than farming. ''Uncle Tom's Cabin'' is maybe an anti slavery novel, published in 1852, by Harriet Beecher Stowe. It is said an important source for Foster's teksts.
5. Minstrel : (Historical Terms) a medieval wandering musician who performed songs or recited poetry with instrumental accompaniment.
6. Official Duch name : De Geoktrooieerde West-Indische Compagnie, known as GWIC, was established by ''Republic of the Seven United Netherlands'' in 1675, ''given jurisdiction over
the Atlantic slave trade, Brazil, the Caribbean, and North America
''. Its final end was 1792.
7. OCD ; ''also commonly called Purely Obsessional OCD, Pure-O, OCD without overt compulsions or with covert compulsions''.
関連記事

A singer songwriter with an oil painter in 19th century [2nd part] (2015/01/20)
Two individuals whom I here describe.
Nobody is not able to escape from the Zeitgeist. [note 1]
There is not anyone who does not know him. Needless to say in United States, also in Japan, where such phenomena is same among not only mature generations but also contemporary young people. This looking good man is surely one of the most respected person in US.
[note 2]
Like Vincent van Gogh, Stephen Collins Foster was an individual in nineteenth century. A fanatic Brabants painter of the Netherlands contrasts with a musician of Pennsylvania of US. When Vincent was born, Stephen was 27 years old. It was vital young age that the most glorious activities in his music accomplishments were realized.
You may recognize this melody, maybe can sing if you can read the staff notetion. I 'm sorry the picture is too smaal to sing. "Old Folks at Home" is known also as "Suwanee River" published in 1851. The original and today's Lyrics as following ; (only 1st verse)
Stephen Collins Foster is appreciated as Father of American music due to compose this songs together with many well known numbers . Saying also ''American Classic'' though it is not a kind of music for Christian Symphony or royalty and the aristocracy at all. Good expression is Folk song isn't it! Songs for everybody.
【NOTE】:
* Black and white image of Foster : I guess, probably it was taken by Augustus Washington, an African-American photographer. Around 1850s it began primitive photography in ordinary life. People had to stay long time before ''a box' socalled Daguerreotypes'. You must pose without moving! Exposure time reduced from !0 minutes (1820s) to a couple of minutes (1850s). Foster's image shows that he was patient enough.
** van Gogh left a plenty of self portraits. This one is probably painted in 1887 at Arles Provance.France.
1.the spirit of the time → zeitgeist (English vocabrary from German. 'tijdgeest' in Dutch) : the moral and intellectual trend of any age or period.
2. In Japan pupil's activities are often practised by socalled 'clubs at school, so music too、 as club of Banjo, Ukulele and Orchestra. That's why Foster's tunes are popular among young people.
関連記事

A singer songwriter with an oil painter in 19th century  [1(prologue)] (2015/01/18)
The party has been over. On 6th January Christmas tree should be stored to storage or brought to county's gathering place. Everybody turns back to ordinary life. Stomach which become thick because of festivity menu will turn back ordinary size too.

I learn an unusual matter that there are people who did not celebrate the Christmas and New Year. It's a little surprise. Hier Europa is, in principle, based on Christianity. To enjoy this period with the birthday of Christ was more or less a printed matter on the double helix ride of genetic information.
.
I am never conscious of the fact many individuals dinay to spend such joyful days. I know, however, some religious groups are known to do it. Needless to say it's within Christianity. Most famous one is Jehovah Witnesses. You would experience to be visited by very very sincere two persons. Another name is perhaps The Watching Tower. Those perspns have never celebrate the birth of God's child [note 1].

Not only religious people but also a plenty of singles are same. Particularly old generation. Because of being single they do nothing special. Most of the case concerns to pretty social matter as a post industrial era. Hiereabout later....

Who decorate nothing in their houses on Christmas-New Year, except above mentioned groupes? People who works hard has no time to spend themselves for Christian holidays. Why? They don't belong to Western European culture although being born and living there. They are descendant of foreign immigrant. Called second generation. It's said that majority of them is Muslim who believes Islam.

A big deal of French muslim came from Algeria in North Africa that was then a colony of France.Three guys have had an aim that is due to their supreme religion. Today it may be a best oppotinity to carry out the aim. Everyone attend to office as the first day after official end of the period as Chiristmas-New Year. An ordinary day, 7th January. For this day everything is prepared, planed and investigated. Now what is left is to realize godly mission. Allah is always by their side. Two brothers and a companion went to the offices of French magazine Charlie Hebdo, where 12 people were killed including the editor and celebrated cartoonists by them

[note 2]

.


According to French police, suspects in connection with the attacks are Cherif Kouachi (32) and his brother Said (34), also Hamyd Mourad (18).. Indeed they did not want to celebrate Christmas days.
【Note】:
1. Jehovah Witnesses.: there are good articles in Internet about this organization. Please refer them. .In Belgium this religious group is considered as a sect. I am used to get their visit several times in a year.
2. Refer: http://zasshizassozatsujin.blog.fc2.com/blog-entry-166.html
関連記事

People who did not celebrate Christmas  [イスラムとかけて] (2015/01/07)