There is a larch wound by a wisteria in my tiny backyard. Both are Japanese native trees, about 13 and 10 years old and both grown from seedings. Maybe young soft buds of the larch are very tasty for pigeons, otherwise this bird is eating insects that live in the twig.
[note 1]
↑Adult ♂ bird  ↓Chick♂/♀(1-2 weeks)
The black bird may be nummber1 in Europian birds population ranking , you see it in every Europian corners. A bird is now singing on a twig under pigeons's point as you recognige. In a case if the same individual in next picture that was born here in my hedge, it is possible to learn difference between male en female by means of such young/baby-bird. Because this singing bird is the male. Indeed it sings cheerfully own songs as Japanese name "Black singing bird". Yet no idea wether only male birds can sing or not.
[note 2]
Three pretty birds in an image above ↑ are spparows, I think. On our time of childhood there were a plenty of them, however hardly seen nowadays. "Passer montanus" is its scientific name. The Passer represents of Order:Passeriformes, Family:Passeridae, and Genus:Passer. Probably a kind that is linked with Passer would be most loved by humankind. The robin, one of passer has been chosen no.1 as the favourite Britain bird last year.
[note 3]
I appreciate these ordinary birds although bird-fan and birdwatchers mention often a lot of beautiful and special birds that ordinary people doesn't know. I'm afraid of my poor knowledge about birds except Washi, tonbi, hato, and Suzume (respectively Eagle=Arend, Kite, Dove=pigeon and Sparrow).
[note 4]
At last Egyptian goose, also called Nile/African goose. They live in a small pond nearby my huis which is not good enough but allows for only a couple with a few new children. The native African was immigrated to Europe since Napoleon time. That's why they became an ordinary birds as an unordinary feature.

[note 5]
【Note】;
1. Larch and Wisteria story : Larix en Blauwe regen : カラマツとノダフジの物語 ↓
2. Black bird : クロウタドリ kuro-uta-dori in Japanese. Merel in Dutch, often name for girls.
3. Robin (Erithacus rubecula): European robin or Robin redbreast. Roodborst in Dutch. 欧州駒鳥

it was voted as nummber one for the UK's national bird in 2016 as well as 1960
4. Washi:鷲 Tonbi:鳶 Hato:鳩 Suzume:雀
5. The African goose was introduced to Europa from the area along river Nile. It might be known centuries as a knowledge before transport of real birds. For example a Dutch animalier painter Melchior d'Hondecoeter depicted the bird exactly with realism as if he studied at zoo many unknown strange birds. A tableau ↓ painted in c.1680 ordered by Willem Ⅲ and Mary.
Nile goose stands right side, opposite the white pelican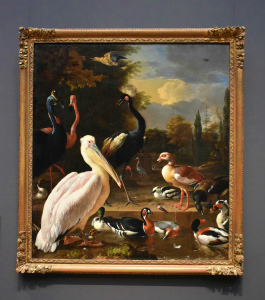 Melchior d'Hondecoeter (c.1636 – 1695), "Het drijvende veertje" (The Floating Feather)
oil on canvas, Stedelijk Museum Amsterdam
関連記事

Ordinary Birds [平凡な鳥たち] (2016/05/29)
スポンサーサイト
Move all together from first to next phase (left) with Greens, remaining always 131 cars given by your all friends. Arend, you see!!
関連記事

Hi Arend, new step we all together take (2016/05/18)
On last sunday 8th May, Wolf Hall took Best British Drama at 2016's TV BAFTAS (British Academy of Film and Television Arts). The TV series is a costume drama and a kind of biography of Thomas Cromwell who rised up to the right hand of Tudor king Hery Ⅷ
.[note 1].
The core story spans from 1529 to 1539, I think, that is really short period.
[note 2] .
Portrait of Jane Seymour in Mauritshuis in the Hauge↑
[note 3]
painted by Hans Holbein the Younger, not mini portrait, but pretty small like A4-notebook. There is another her portrait with almost same impression at "the Kunsthistorisches Museum" in Vienna , Austria.
[note 4]
You can compare this with another portrait hereunder 'note 4', then find a plenty of differences between 'two'. There is hardly fundamental difference, but feature of her face in `Mauritshuis` is depicted a little broader than that of Kunsthistorisches Museum, although the proportion about her head and body on both versions is strange, or say maybe ''not correct'.

Mark Rylance
, an American actor in the series. He has been nominated for the main actor in a dozen of film award occasions in 2015 -2016 and got two of them by now.
All actors and actress, in particular men, wear rather heavy costume. Might it be in 15~16 centuries in socalled small ice age? Today it's pretty fresh, average temperature 12 degrees, not a climate in May. In the first half of 16 century it might be fresh like 15th May 2016. Therfore Mark Rylance played as Cromwell put mostly fur coat on his shoulders.
Claire Foy
played as Anne Boleyn, second wife of Henry Ⅷ. Her dress is almost same that you recognize in above portrait by Holbein. She is nominated for main actress by several film award organizations as well as Mark Rylance.
Not only Wolf Hall but all Tudors TV entertainment shows owe to Hans Holbein for all to represent the era, at least a great part of stage and costume design. Before the official king's painter in 1535 Holbein portraited of royal family and nobles already, because he was in favour by Thomas Cromwell who set up a kind of artistic political policy.
These two portraits ↓ belong to collection of the National Portrait Gallery, London (assembled by BBC site). At the same time the Frick Collection in Manhattan, New York City, has also, and explaine as follwing : Left ; Thomas More (1478-1535) painted in 1527. Right ; Thomas Cromwell (1485-1540) painted in 1532-1533
Hans Holbein stayed 2 years (1526-1528) in England and got patronage of Thomas More whose portrait (left) was made in the period naturally. More was beheaded in june 1536 as result of the faithfulness to the Roman Catholic, in fact via Cromwell by order of Henry Ⅷ. Holbein came back to England in 1532, this time he worked for Cromwell (right) whose political power rapidly was increasing.
[Continued]
【Note】;
1.Wolf Hall is a novel written by Hilary Mantel in 2009. The tytle is quoted from Wolfhall or Wulfhall in Wiltshire, a county in South West England. In 16 century it was the Seymour family seat.
2. In Japan the Sengoku period (戦国時代 era of wars, a kind of Civil War; c.1467 – c 1603), No one could rule whole Japan.
3. Mauritshuis ; Total building renovation completed few years ago, got new concept to present. It's contemporary enough to let audience enjoy, for instance about superabundant paintings in the storage. Mauritshuis is known, as you know, owner of "Girl with a Pearl Earring " by Johannes Vermeer. It's collection seems to based on that of William V, Prince of Orange (1748–1806). His Gallery is located at the Buitenhof, a five minute walk from the Mauritshuis. Paintings are presented original way that Willem willed at his time. Every inch is occupied with tableau as you see on second picture.
4. Hans Holbein (c. 1497 – November 1543). Frame size is maybe a standart A4. I did not measure it in the museum. It's possible painting itself is A4. You can see hardly such a little strange frame. Mauritshuis museum in the Hague owns a couple of same frames with other persons. The explanation panel says "painted '1540?'" with question mark. She was died on 24 October 1537 a week after birth her son. The Kunsthistorisches Museum, largest in Austria, says Jane's portrait by Holbein was painted 1537 (according to Wikipedia). It means this version in Mauritshuis could be a duplicate (by Hans Holbein himself or who knows by his staff in atelier)
Yet I don't know size of Vienna`s version, it looks like a little bigger than Mauritshuis version (Left) .
関連記事

Wolf Hall & Hans Holbein [around Jane Seymour] (2016/05/15)