上記の広告は1ヶ月以上更新のないブログに表示されています。
新しい記事を書く事で広告が消せます。
In March 4th 1993 we got a fire, an hour before a birthday party. Anyone who was downstairs being busy with preparation for joyful event didn't notice it at all. But someone from other street found the moving fire and smoke inside a room of upstairs.






A baby slept at the moment on attic. Suddenly a boy came into the house shouting 'Fire Fire' who discovered fire. How courageous a woman and the boy were! She went up to attic and brought him down, and then they together put repeatedly a bucket of water toward the burning flame.

By chance a full of water was left in bathtub. The bathroom was next door of our office. When they opened door in order to extinguish fire seemed to be merely seconds before Backfire. If it happened both persons would have seriously wounded and you can imagine, in addition to、how big the damage of house was, although Fire brigade had soon arrived.






During whole such on-going fire I myself was on the way to fetch elder daughter who was somewhere in Gitter lesson. Coming home, we met with people of Fire brigade and police.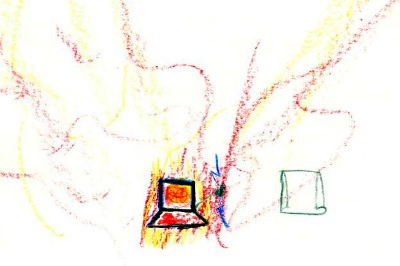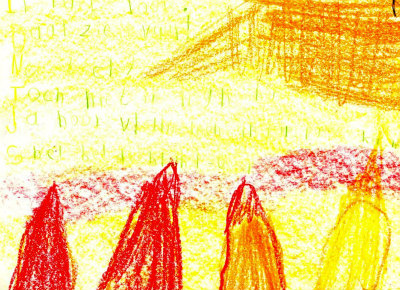 On next day younger daughter told the shocking story in her class at school. Her teacher Joke took it immediately as an object of learning. She made a text and let children draw their imagination of just heard story. The standard text was also drawn with colorful style on another side as you witness.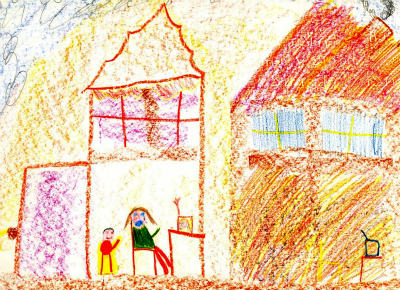 The 17 classmates of younger daughter got likely pretty much impression about Japanese special computer twisted and partly melted by high temperature. The 8 years old daughter might seriously describe it to her frieds, because unusual Japanese one, besides socalled ''computer'' was not yet a standaard equipment in ordinary family. She herself drew simply two doors on paper; one of door was complete black which astonished her after the fire.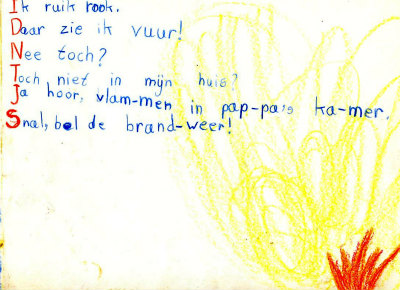 It was maybe a tiny accident, but the aftermath was an unforgettable matter that Joke presented us later those 17 drawings. It would remain as a scene in each individual life of my concerned persons.
Most of papers and books had gone as well as machineries, firnitures and wall. I would say this '', a legacy of the fire''.
【Note】:


1. You may notice birthday cake, flags and Laptop computer in drawings. The former two things are standard items on birthday in the Netherlands.

関連記事

We got a fire, we got a present.                [自由学校Waldorf (Steiner) education ] (2015/02/03)
スポンサーサイト