上記の広告は1ヶ月以上更新のないブログに表示されています。
新しい記事を書く事で広告が消せます。
This is one of some hundreds of castles along Loire River in central France. Certainly the Loire has been overflowed. Château de Chambord locates in Loire valley and popular tourist attraction, otherwise I`d have never visited 36 years ago. Last year, however, there were reportedly a million visitors. It might be ten times more than my visit with `quick rough drawing`.
[note 1]
It says in blue blok↑also about `Suzuki motors emission fraud` . An image on TV shows up very daily ``this and that`` in our ordinary life. The largest small car maker Suzuki followed conspiracies of Vokswagen, Opel and Renalt. Their share percentage in domestic market has lost a great deal. It is a little pain for Mr.Suzuki, the biggest shareholder and CEO who decided to stop cooperation with Volkswagen in regard to `clean engine`.

Oh poor France is getting disastrous damage by floods according to all 24 hours broadcastings. The castle Chambord had to close, of course thus for the time being no tourist income for governments.
At the same time it has happened mass protests in many chief cities. Hundreds of thousands of people joined the action against proposed labour changes by the Socialist government, on last Thursday, despite of such heavy rain.

President François Hollande seems to be always struggling with high unemployment, terrors by radical muslim and natural devastating phenomenon. If he were Vladimir Putin it would be easy to solve problems. Perfect crackdown against protests, assassinate political enemies by FSB(=KGB) and broadcast own TV show as if nothing happens. France is a republic democratic country and Hollande is chosen by people, no way to become a dictator like a Russian small man.
Seine looked like overflowing yesterday with three times of the amount of water than usual.
Not only France but all central Europe. Netherlands got warning when Hamminkeln was broken. Already low places in some villages along Maas river were under the water. In Braunsbach in Baden-Württemberg Germany, for example, streets changed to raging muddy stream. In Bayern many towns are flowting in the water.
In Belgium Wallonia got at first an attack by Rain-front and today Flanders (Vlaanderen) as well.
At the time somewhere in cetral France I met this boy. He didn`t visit Château de Chambord, but said he would go there because the castle looked lovely. He saw my sketch with explanation by strange letters.. Even such thing lets people come up with something and then he asked politely : maybe you like me to draw.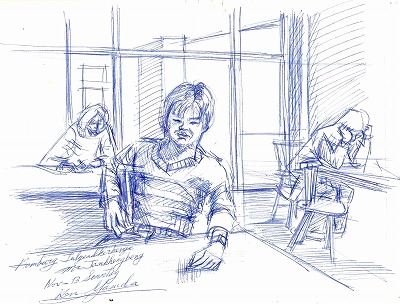 I found through my journey a nice fact that quite a people favored to be depicted. Why? they might think it took little time. Indeed my hand moved quick, this boy` sketch needed 10-15 minutes, I guess. To be young means `power`, I could stay outside in winter also for an hour drawing at the period.

Todays mximum 15 minutes I dare to draw that you see ↓hierunder . She wasn't aware then to be targeted as a model. That's why it is natural whether good or bad. I have had just a fun. When such a fun disappear it would be time to make a trip to the heaven, where I continue to go ahead for tiny personal curiosiy.
.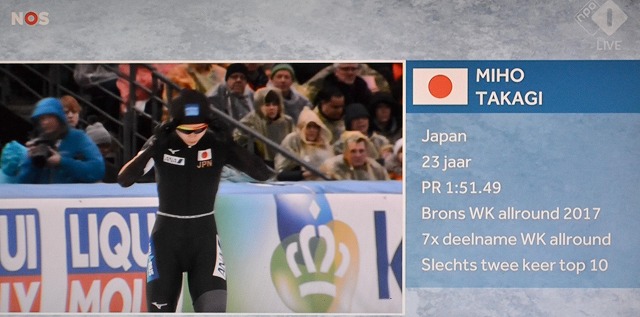 【Note】;
1. Francis I (François d'Orléans) of the house Valois (1494- 1547) begon to construct this for his hunting lodge. Its location was far from villages. He was a contemporary of Henry Ⅷ (1491-1547) in England.and Charles V (1500-1558) of Spanish king and Holy Roman Emperor. Leonardo da Vinci (1452-1519) lived his last three years nearby the residence of Francis I. The allmighty artist could design partly its building or interior because of friendship with `young` the king of the Frans..
関連記事

Europe Deadly Floods (2016/06/06)
スポンサーサイト