About 5~6m height
Maybe beginning 10% blooming, When you consider its height it should not be Sloe (blackthorn) which is a typical shrub with thin stem. There are exceptions in every world.

It doesn't look like small shrub but black bark and sharp thorns on twigs.


I failed what it is at first sight.
This is the blackthorn [note *]Prunus spinosa

The melody : Spring has just come

This mushroom on a cherry tree could be Phellinus tuberculosus

Pprickly castor oil tree / ハリギリ / stekelboom
Kalopanax septemlobus

New leaf and flower buds are opening

Another combination is already clear what they are.
Butterbur / 紅蕗 / Groot hoefblad.
Petasites hybridus
A mass of tubular flowers. One bundle has a small peduncle and concists of many tubular flowers. Some of them are open as a flower with 5 petals which is, in this case, male flower. It means this area is occupied by Rhizome (underground) network, thus all flowers are same clones, namely male.

Look at brown wings

Winged spindle /ニシキギ/ Japanse kardinaalshoed 
Euonymus alatus

Lesser celandine / ヒメリュウキンカ / Speenkruid Ficaria verna
and an unique guest from Japan

'Giant butterbur' / フキ=Fuki / Japanse groot hoefblad
Petasites japonicus  This is male exemplar 
one group of bisexual flowers. Each flower has a long style which is surrounded by stamens which are coalesced as a ring.


↓All exemplars are linked each other with underground root. It means here is male area.


At this moment such beautiful blossom.
This is a kind of cherry, but not exact cherry.
It's called Cherry Plum, a species of plum.
Prunus cerasifera var.atropurpurea / ベニバスモモ
The sepals are warped downwards. Real cherry kinds, for example Japanese cherries have not such sepals. Only Wild cherry
Prunus avium
equips same kinds of downwards sepals.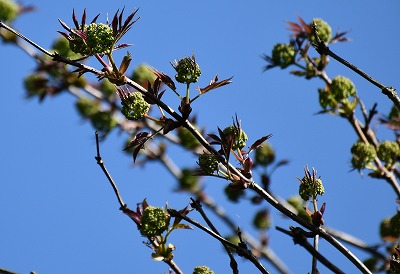 This is a species close to Japanese elderberry, I think.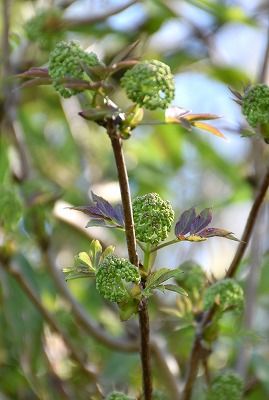 Red elderberry / 紅または山ニワトコ / Trosvlier
Sambucus racemosa
As the fruit ripens it hangs like a tassel of grapes.
European representative Sambucus nigra makes inverted triangle flowers.
I found this small tree nearby above red elderberry. It seems to be same genus with white edge leaves. Wings are recognized on twig. Apparently a cultivated garden variation. [note **]
【Note】;
* There is Japanese name of blackthorne, but sounds stupid.
Jägermeister
is one of my favour,. It is said that at the very beginning the liquor maker used ripe Blackshorn fruit as the main material. I do understand it very well.
** All plants you sea here is more or less ''cultivated forms'', that are mostly planted.
関連記事